EffiBOT: Extension of Plug-and-Carry® conveyors
In 2019, Effidence and BOA Concept are teaming up on a project: the EffiBOT mobile robot equipped with its Convey-LINK motorised roller conveyor module as an extension of the Plug-and-Carry®. intelligent and modular fixed conveyors.


Boa Concept, founded in 2012, is an innovative company specialized in intralogistics. Very quickly, by relying on a modular and easy-to-implement design, the company democratizes access to automation:
Today, Boa Concept offers a range of intelligent modular Plug-and-Carry® conveyors for light and heavy loads, as well as a an automated storage system called Plug-and-Store®; all its products are assembled in France.
The Boa Concept systems operate without a PLC thanks to their on-board control system and have convinced major logistics and e-commerce companies thanks to their performance and scalability.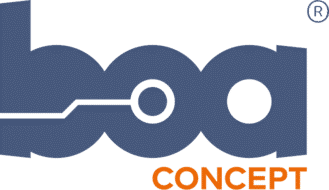 The Plug-and-Carry® is a range of intelligent modular conveyors, for heavy or light loads, 100% electric.
The speed is 1500 packages/hour. The width of the fixed conveyors varies from 500mm to 900mm and the maximum load is 35kg/meter.