Our EffiBOT-P can take and drop pallets. They work alongside your operators and bring you efficiency, speed and productivity.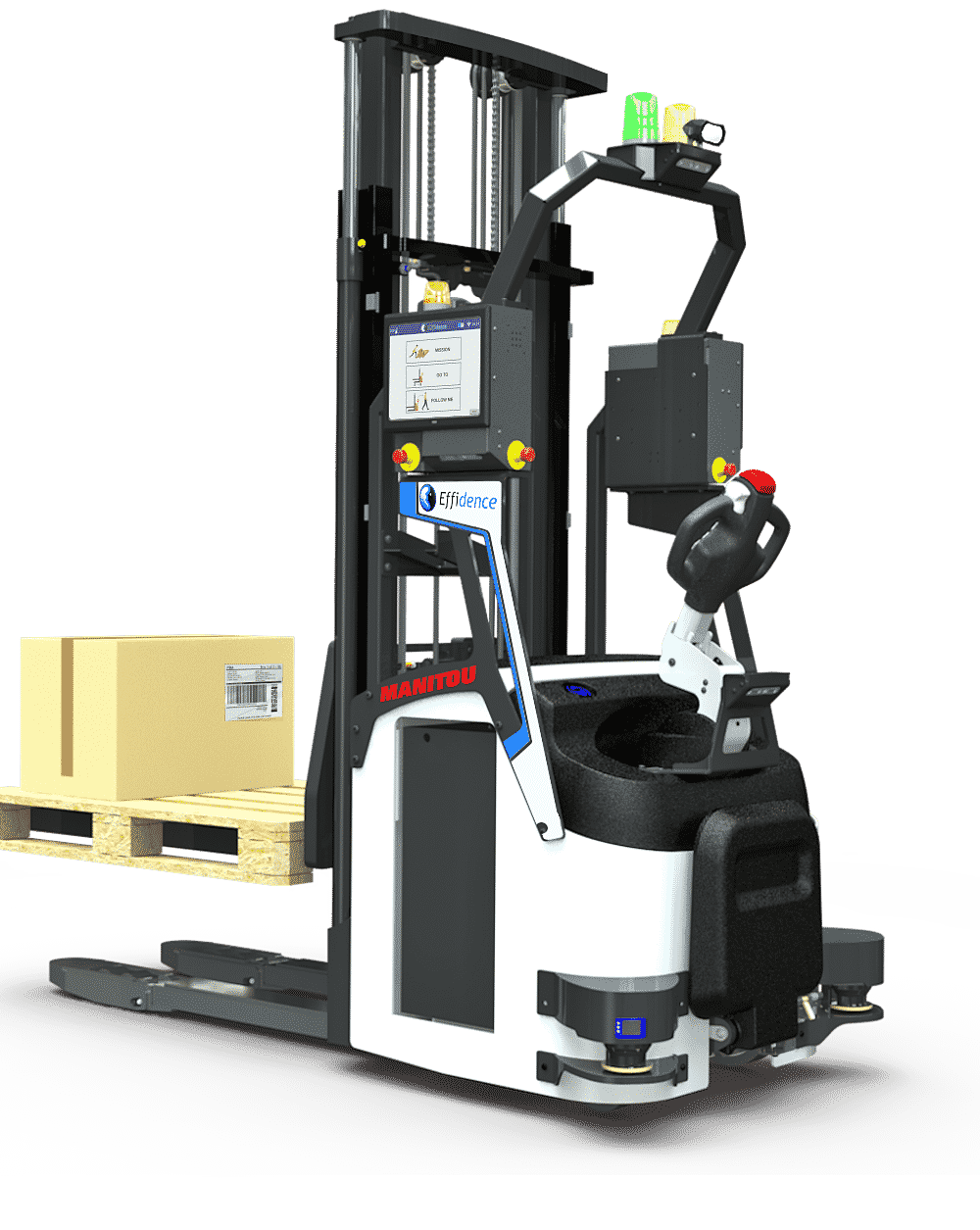 Our AGV/AMR are autonomous and collaborative, meaning they are able to evolve in total autonomy close to humans and operators. But they also have the ability to smartly track operators, in "Follow-me" mode, especially to assist them in picking tasks.
Our stackers allow you to perform several tasks at once. An operator normally takes an order, drops it off and then brings it to the storage platform or to its final destination. Then he returns to a service aisle to deal with the next order. Here, our range of solutions revolutionizes their daily lives and handles the transport of goods while the operator values picking operations!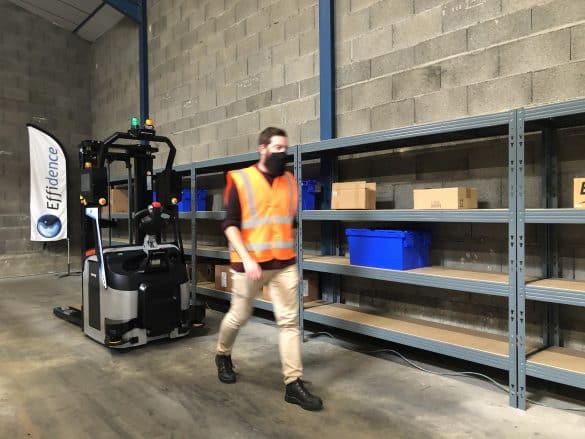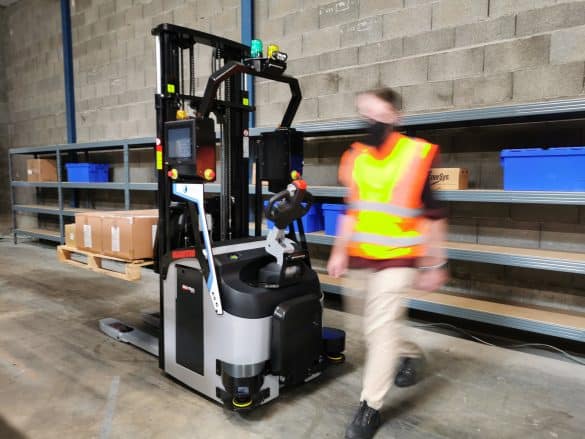 Our stackers operate safely alongside operators and are smartly distributed, thanks to the fleet management system. While preparers perform value-added missions such as taking and dropping items on pallets, robots take care of heavier and difficult tasks to relieve them. Our robots are also equipped with numerous sensors and LIDARS, which allow them to detect obstacles. The emergency shutdown system is also a safety guarantee to take into account.
CONTACTLESS CHARGING STATION
Distance between transmitter and receiver plates: 9 cm
Efficiency > 90% (equivalent to a wired charger)
Intrainsic detection of metallic objects
Power self-regulated by battery power demand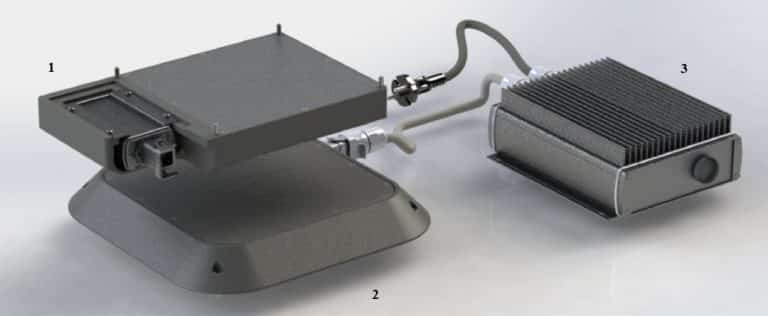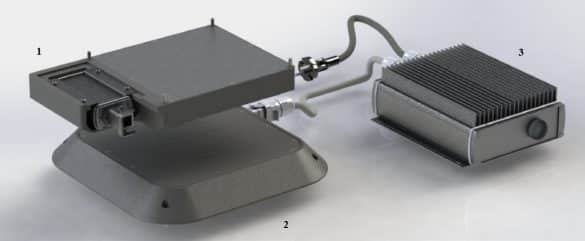 1.Receiver plate     2. Transmitter plate     3. Converter
Our stackers are equipped with:
2 LIDAR with a 360-degree angle of detection to allow the stacker navigation and obstacle avoidance
3D cameras to detect high or very low obstacles such as forks from other vehicles
Rangefinder sensors to secure the stacker' sideways to the end of the forks
A sensor at the front to allow the pallet to be manipulated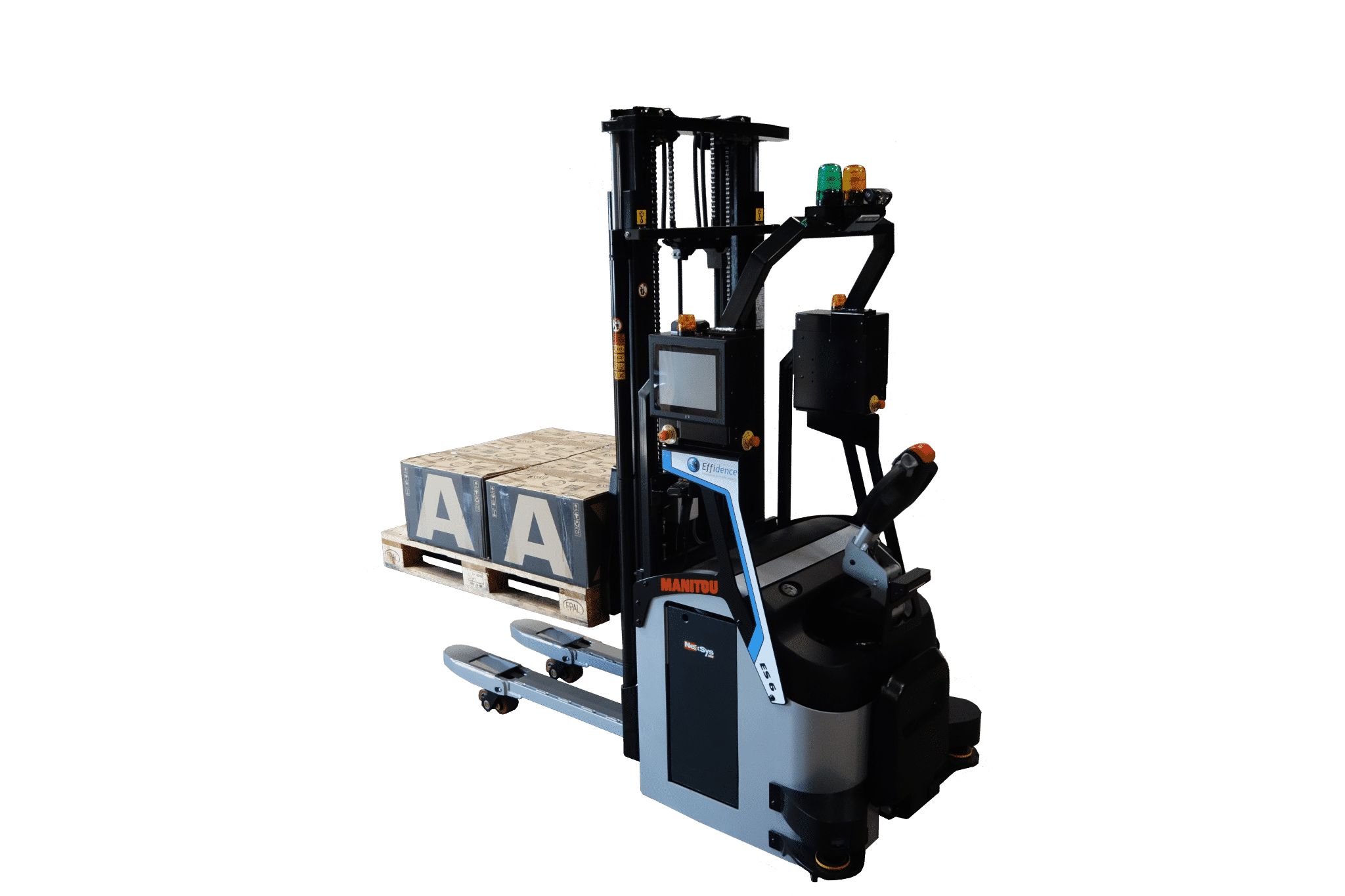 Useful dimensions and capabilities of the trolley
Load and lift capacity: 1600 kg
Length: 2240 mm
Width: 985 mm
Height: 2125 mm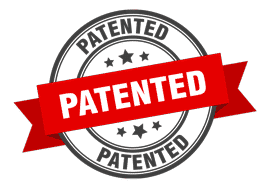 Our vehicles are equipped with the most robust and efficient navigation system
A set of sensors analyzes the environment 360 degrees,
The location is based mainly on the natural environment and can also be artificially reinforced in open areas,
The navigation system allows a speed of up to 6 km/h (1.7 m/s).
Our EffiBOT-P complies with the Machine Directive 2006/42/EC.